There's so much beauty in letter writing: the intentionality, and personalisation of penning down your thoughts for a certain someone. Patricia Lagmay first started her letter series in 2021 to build a home for her styling content, away from the clutter of the world wide web. Through them, she shares personal styling tips on how to build a foundational wardrobe, improve the longevity of pieces as well as life anecdotes on her relationship with clothes. It's always such a joy receiving new letters in our inbox from her – just like hearing from a penpal.
When we launched our first GOTS-certified collection, we reached out to Patricia, a conscious shopper, to find out her thoughts on what a staple shirt means to her and how she would style it for the everyday. Here is what she had to say: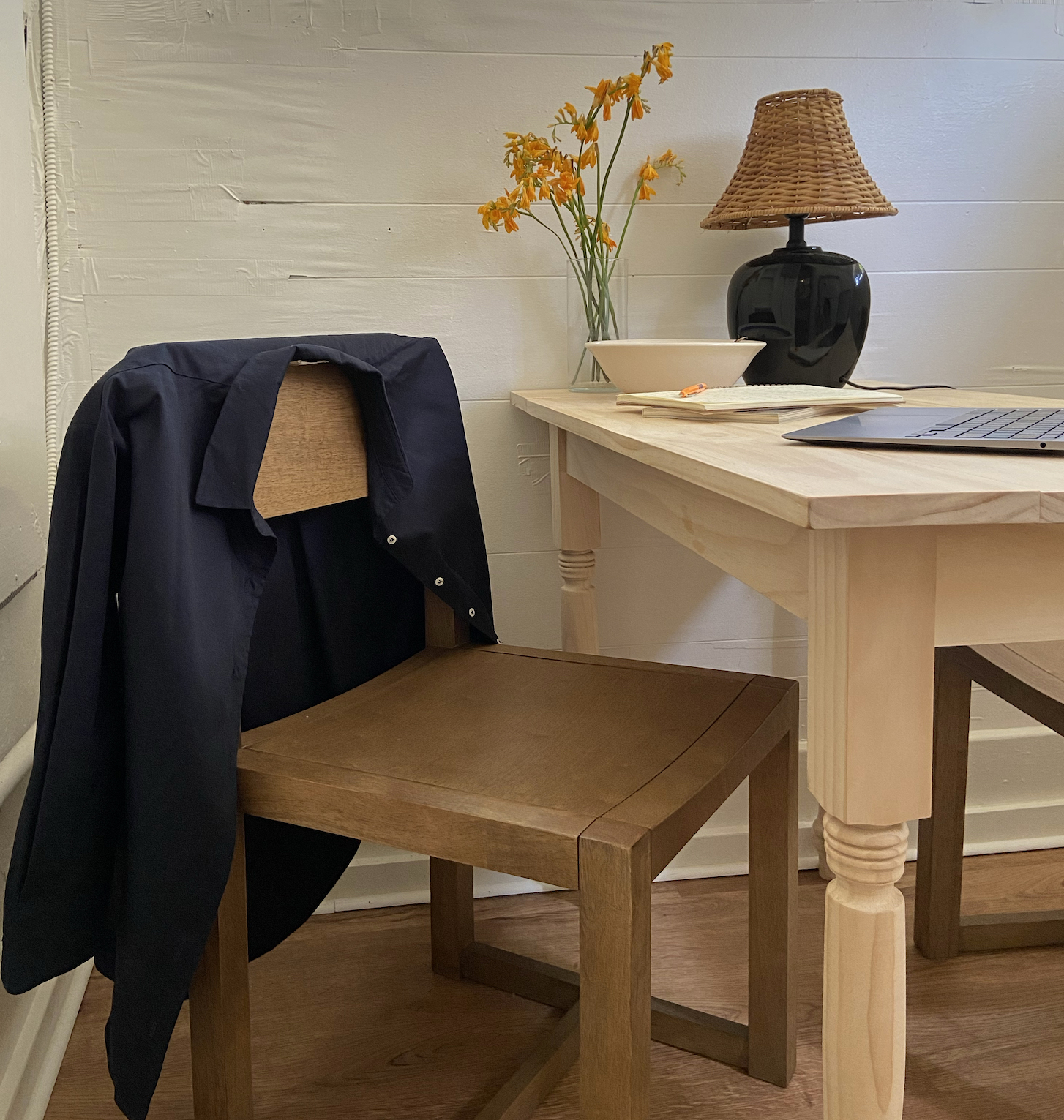 My favorite striped shirt, which I found at a thrift store for $2 and has carried me through dinners with friends and meetings with clients for the last seven years, finally developed its first hole the other day. It felt like a medal of sorts. A rite of passage. Proof of good use; of so much devoted wear that of course the fabric has worn thin. And so while I wasn't upset that the end seems to be nigh, it did get me thinking about what would be taking its place, and what it is that I look for in a good button-up shirt.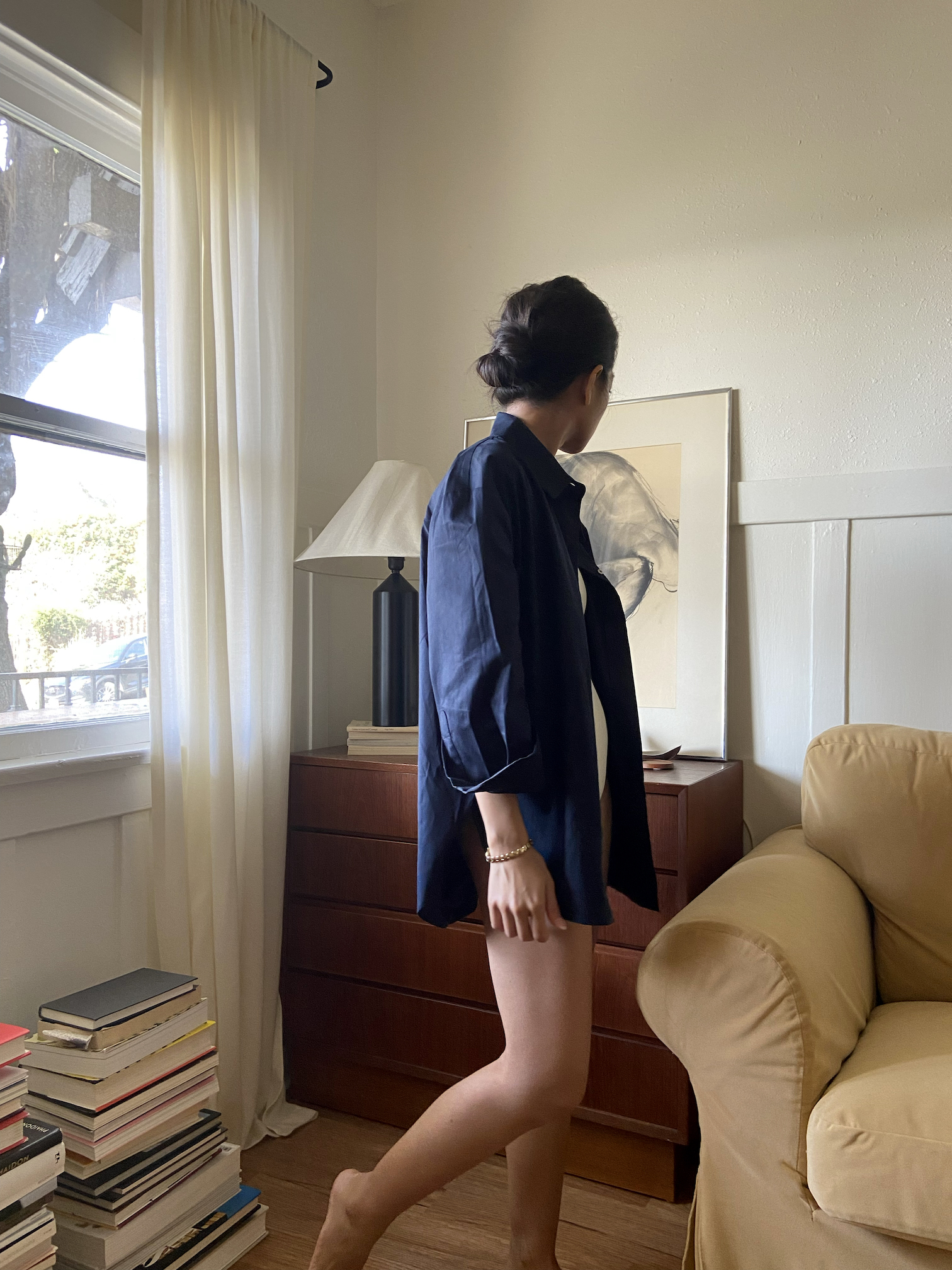 Look 1 – Oversized button-ups make for wonderful beach coverups (you'll have to believe me when I say that I'm wearing a bathing suit underneath this, I just didn't know if I wanted a photo of me in swimsuit living on the internet for posterity).
Fabric is a natural place to start. To me, a good shirt is one that is either soft enough to drape on my body (so that it not so much sits on my shoulders as it does hang) or—on the opposite end of that spectrum—structured enough to create shape and dimension (like a well-kept work shirt from a banker's closet, but a couple of years old so it's not as stiff). Sometimes I'll get lucky and find a shirt that somehow does both.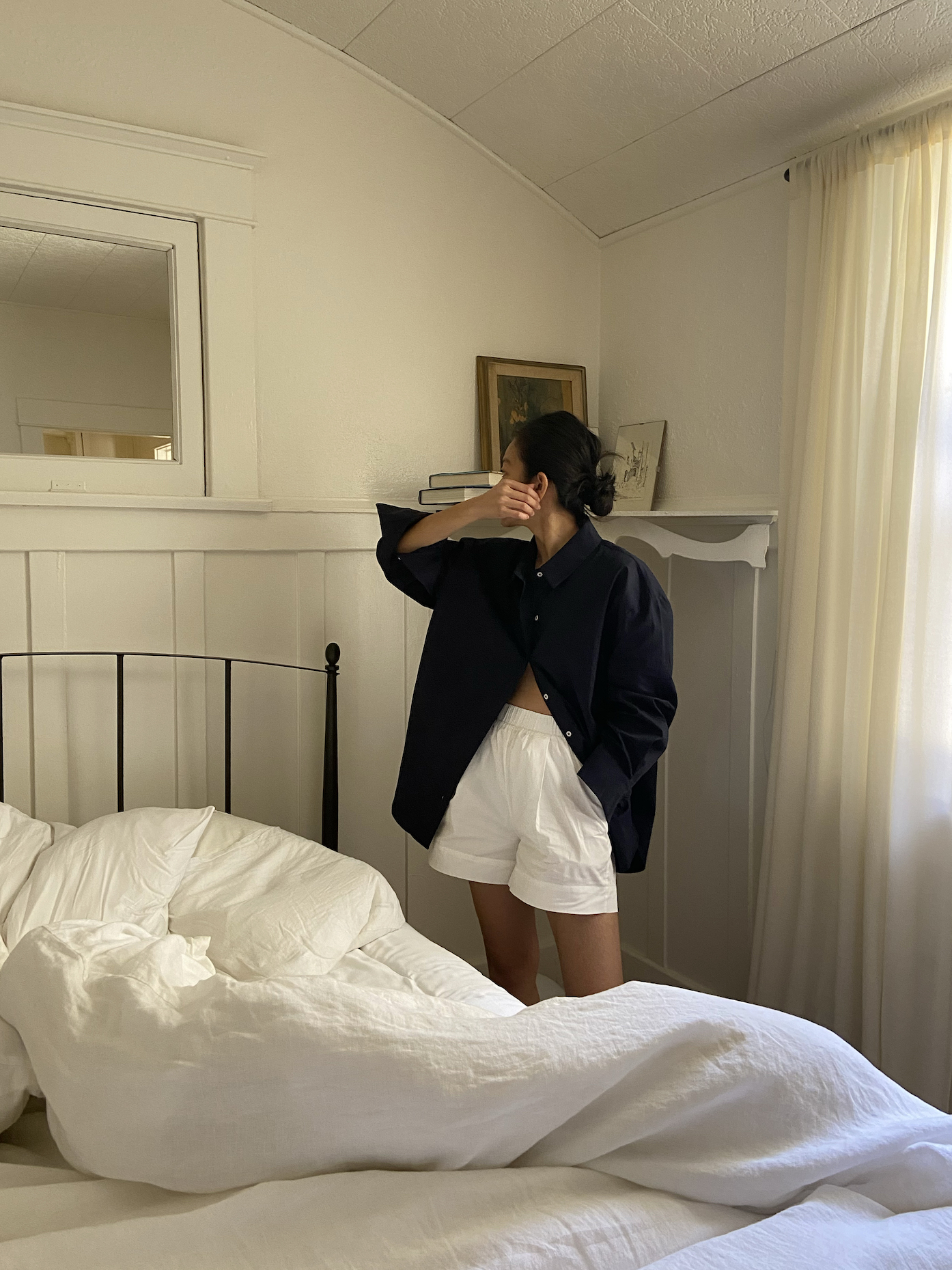 Look 2 – For when I'm spending all day at home and want to pretend I'm in a cozy seaside cottage somewhere on the east coast. Maybe Maine? Oh and in this fantasy it's the 90s. Paired here with Organic Cotton Boxy Pleat Shorts.
Buttons are important, too. Not necessarily what they look like (though that also matters) but where they've been placed. I like to be able to keep my buttons low enough to reveal a good amount of décolletage (I tend to feel stuffy in a button-up otherwise) but high enough that I'm not revealing anything I don't want to. It's a sweet spot that I rarely find, and one that I often have to manufacture with double-sided tape (I use it to split the difference between two button closures if one is too low and the other is too high).  When I don't have to do that, I know I've found a good shirt.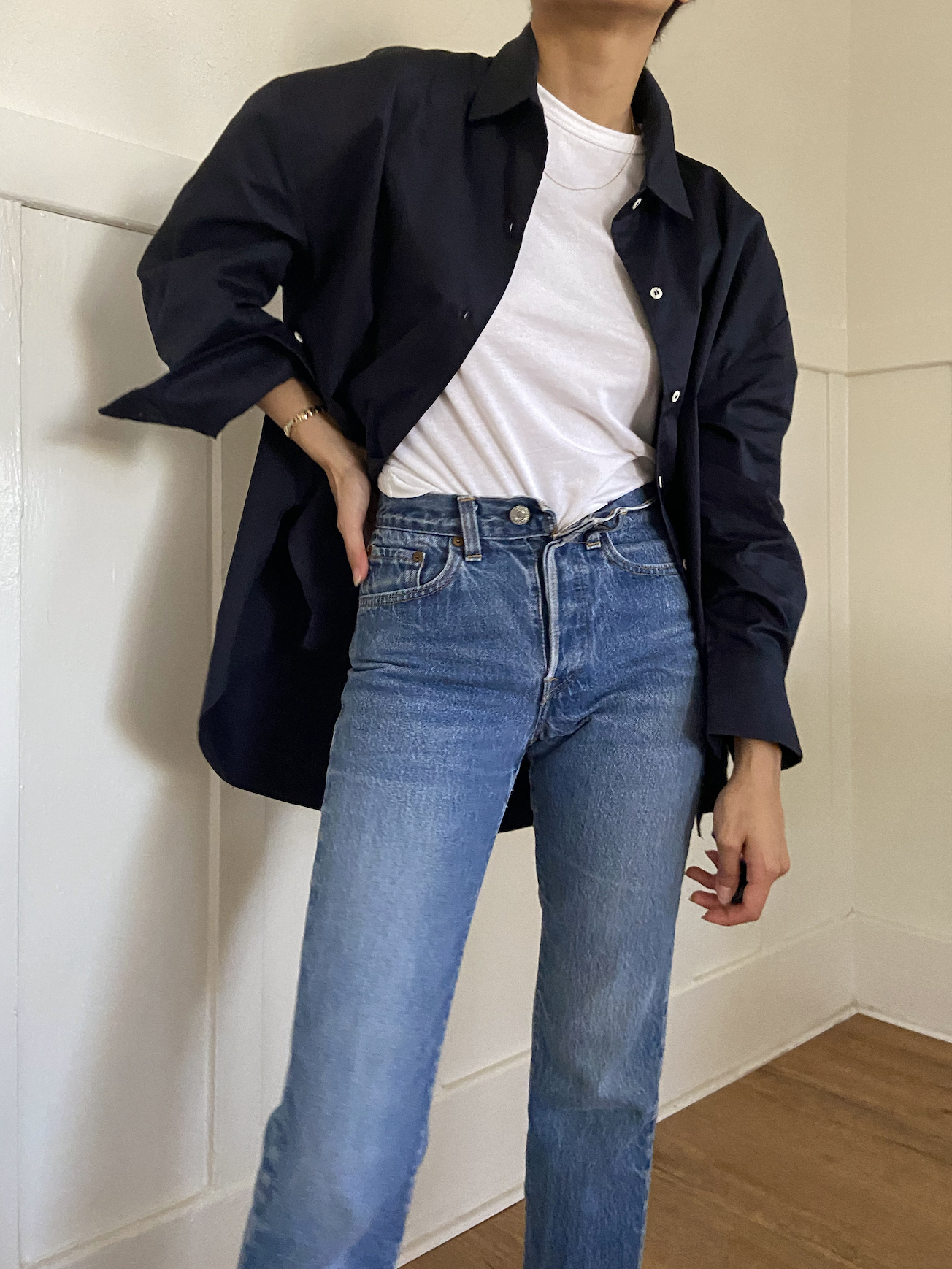 Look 3 – I call this the in-between weather look. When I'm going to be out all day and I don't know which way the weather will turn, a button-up over a t-shirt almost never fails. It's easy to de-layer when the clouds part, and just as easy to layer up again when they come back. I've sized up to a large here (and in all the looks) for an extra oversized fit (my true size is extra small).
Then there's colour, of course. While I don't wear much of it (I tend to stick to neutrals) I do pay particular attention to the shade and tone of whatever neutral or colour I'm being drawn to. Not all navies are created equal, for example. A lighter navy tends to feel faded. Incomplete. Almost like it was taken out of the dye bath too soon. While a deep navy feels grounded and rich. And almost always looks better against the skin.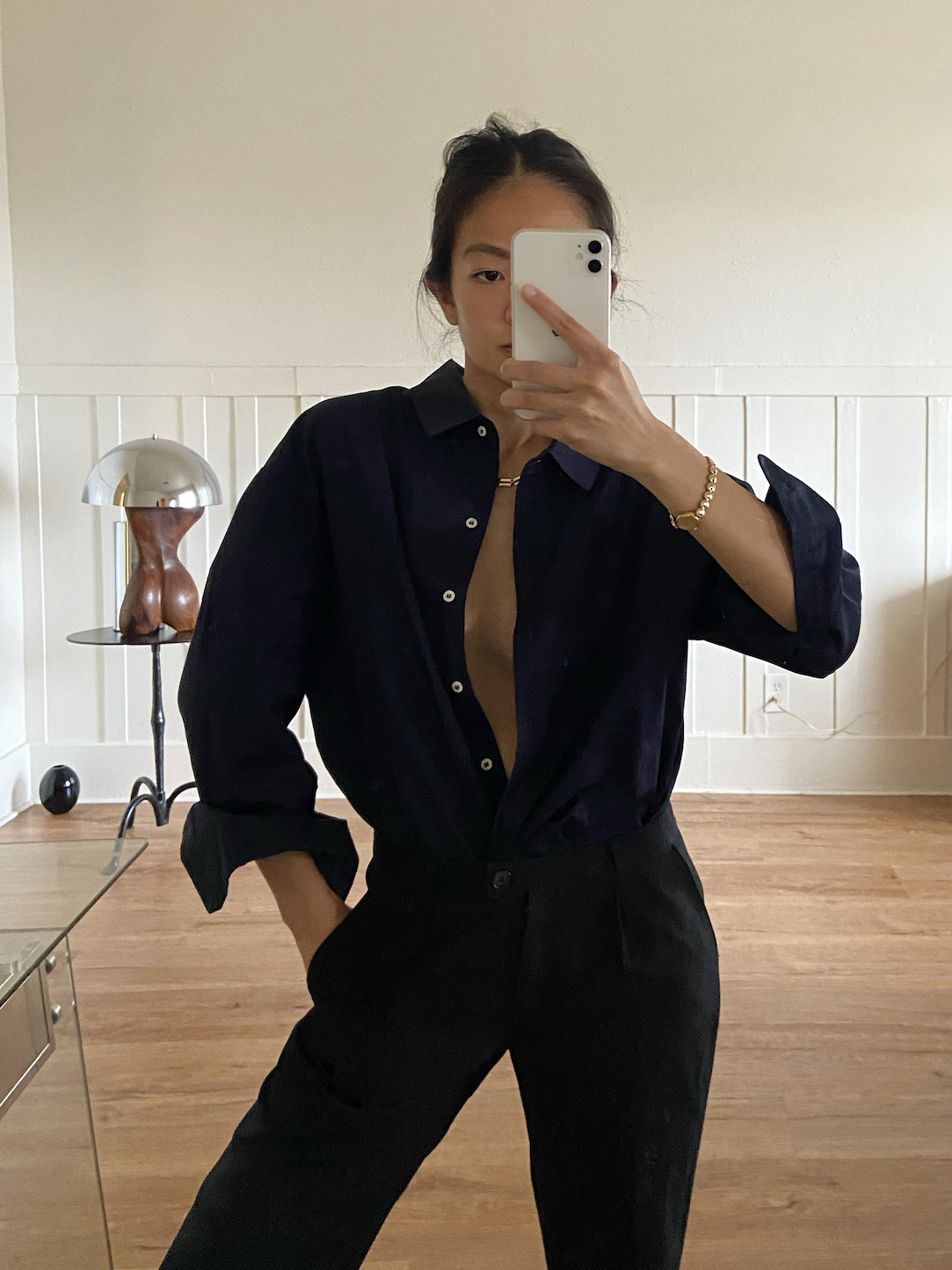 Look 4 – On my way to meet someone for a glass of wine
Fit is slightly harder to pin down, but in general I like my shirts to be a bit oversized (I prefer button-ups that feel like menswear) but also light enough (in terms of overall bulk) that I can still tuck it in.
I find that the more of these boxes a shirt ticks, the easier it is to style a multitude of ways. Like the Organic Cotton Oversized Shirt, which comes in that deep rich navy I was talking about.
Patricia

Our organic cotton collection is now back in stock online.