Tiers
& Benefits
Registered Collectors of The Bluhaus Club enjoy a variety of privileges and experiences during each calendar year. These benefits will differ depending on your Club status.
Collectors are differentiated into 3 tiers:
Top: Connoisseur
Middle: Enthusiast
Base: Explorer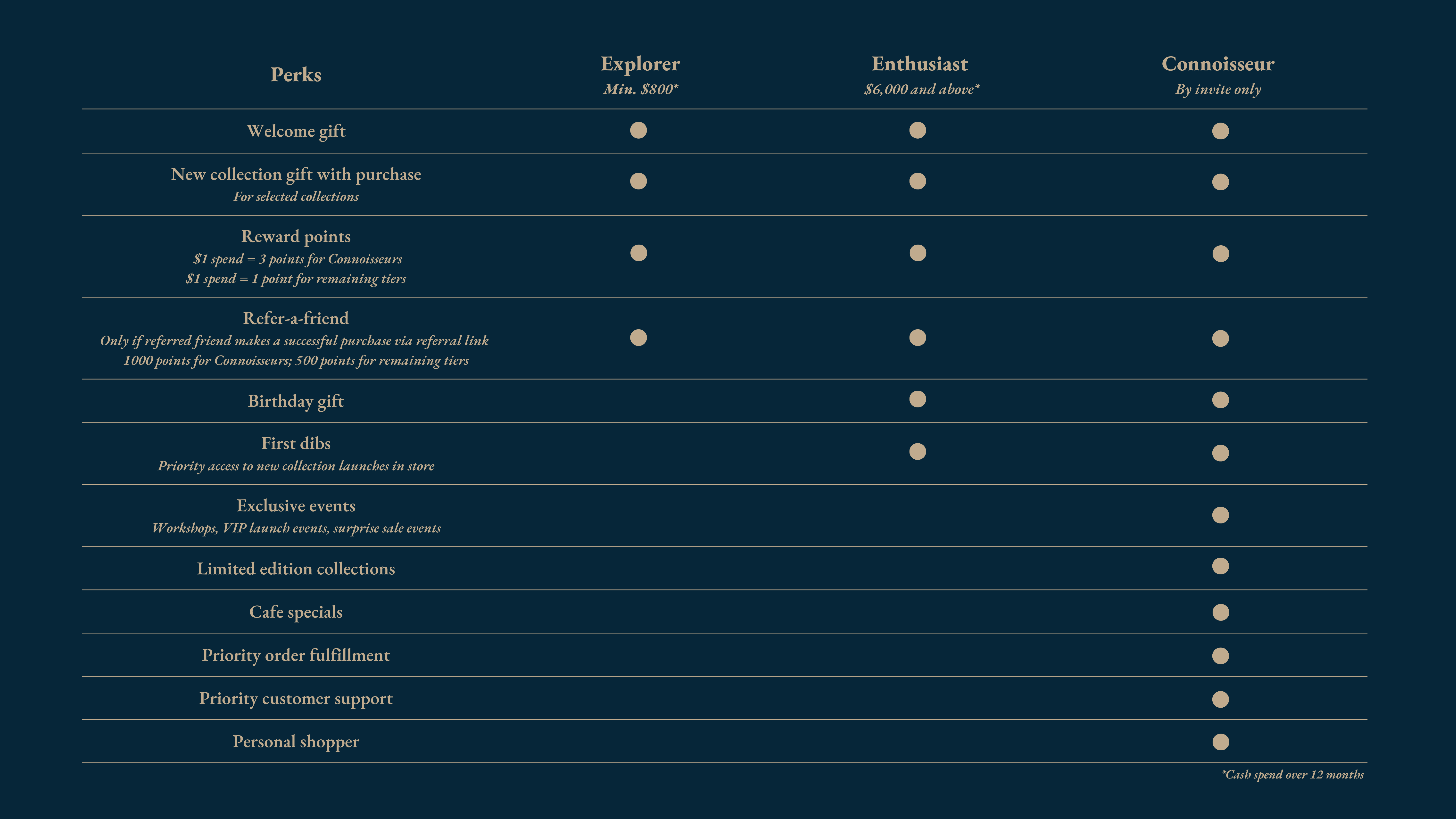 All Members
The Bluhaus Club Reward Points

Reward points do not have an expiration date. However, converted reward points into shop credits will have a validity of 180 days, from the date of conversion.


$1 spend = 1 reward point (Enthusiasts & Explorers)
$1 spend = 3 reward points (Connoisseurs)
Reward points can be converted to shop credits.
Every 100 reward points can be redeemed for $1 shop credit. You may convert your reward points via the "Convert Points" feature on your Bluhaus account.  


Reward points are earned only through cash purchases.
Purchases made using shop credits will not earn points.
Example: $50 cash + $10 shop credits = 50 reward points earned.


As a Collector, your reward points also never expire as long as you remain a Bluhaus Club member.
Refer-a-Friend
Share and be rewarded at The Bluhaus Club. Earn bonus reward points through every successful friend referral at Our Second Nature. Receive bonus points* in your account when your friend signs up for a new account through your unique referral link and makes a first purchase.


*500 reward points : Enthusiast & Explorer members
*1000 reward points : Connoisseur members


Referral bonuses will not be awarded if your friend is an existing customer of Our Second Nature and for purchases of digital gift cards.
Gift With Purchase
As a Bluhaus Club member, you will receive exclusive gifts with purchases for selected collections throughout the year.
Do note that each member is entitled to one gift per collection, only redeemable through online orders and subject to availability.
Connoisseur and Enthusiasts - Extended Privileges
Birthday Gift
We love to celebrate milestones with you. Connoisseur and Enthusiast members will receive an exclusive birthday gift on your special month, sent to your registered Bluhaus Club mailing address.
First Dibs and Exclusive Events
As a special privilege, Connoisseur and Enthusiast members get to enjoy a full hour of early access shopping during selected new collection store launches. Receive new collection and early access details by joining our mailing list. You will also stand to receive invitations to VIP events and experiences.
Connoisseur - Exclusives
Personal Shopper
[Available mid Feb 2023]
An exclusive service offered to Connoisseurs, our highest tier of members. Our Personal Shopper service tailors a private shopping experience to your individual tastes. By appointment only — make a booking below.


How it works:
01 Book an Appointment
Click on the button below to be directed to book a Personal Shopper appointment. Take a minute or two to share some information about your visit - such as your preferred mode of communication and pieces of interest - and we'll connect you with our team of experts.


02 Meet your Personal Shopper
Your dedicated Personal Shopper will be in touch within 48 hours on your preferred platform - Email / WhatsApp, or a simple phone call.


03 Unrivaled Access
Your dedicated Personal Shopper team will host you at your store of choice for a full Our Second Nature experience.
Cafe Specials
As a Connoisseur member, you get to enjoy a complimentary cup of coffee or tea at Our Second Home, on every first Tuesday of the month.* Simply present your membership card to our barista or ambassador to redeem your choice of beverage.


*Exclusively at:
Our Second Home Shop + Café
43 Jalan Merah Saga,
Chip Bee Gardens
#01-66, Singapore 278115
10am to 6pm
Priority Order Fulfillment and Priority Customer Support
Discover priority treatment, every step of the way. Connoisseur members will enjoy priority order fulfillment and priority customer support during your membership year. This means that your online orders will be shipped first and customer tickets will be answered before anyone else.

Have more questions? Click here to explore our FAQ page.
The Bluhaus Club reserves the right to revise these terms and privileges at any time without prior notice.